10m² 450g ResiRoof® Premier Fibreglass Roof Kit
Special Price
£288.35
£240.29
Regular Price
£302.76

450g/m² Fibreglass chopped strand matting
20-year material warranty
Your 10m² ResiRoof® Fibreglass Roof Kit Contents: 
1x ResiRoof Roofing Resin Basecoat 5kg
1x ResiRoof Roofing Resin Basecoat 10kg
1x ResiRoof Roofing Topcoat Ral 7011 10kg
1x ResiRoof GRP Roofing Catalyst 500g *Includes Measuring cup
ResiRoof Acetone Cleaner 5 lItres 
450g/m² Fibreglass CSM 0.9m² x 11m² (Approx 5kg)
75mm Woven tape
---
Tool Contents *NOT INCLUDED 
ResiRoof Essential Tool Pack (5m² up to 25m² Roofs)
1x box (50 pairs) surgical gloves
1x 140x21 paddle roller
1x 75x21 paddle roller
4x 150mm deep pile resin roller refill
2x 150mm short pile top coating roller refill
1x 150mm roller arm
1x 75mm deep pile resin roller refill
1x 75mm roller arm
2x 75mm Brush
2x 5-litre bucket
1x 10-litre bucket
2x telescopic extension arm
---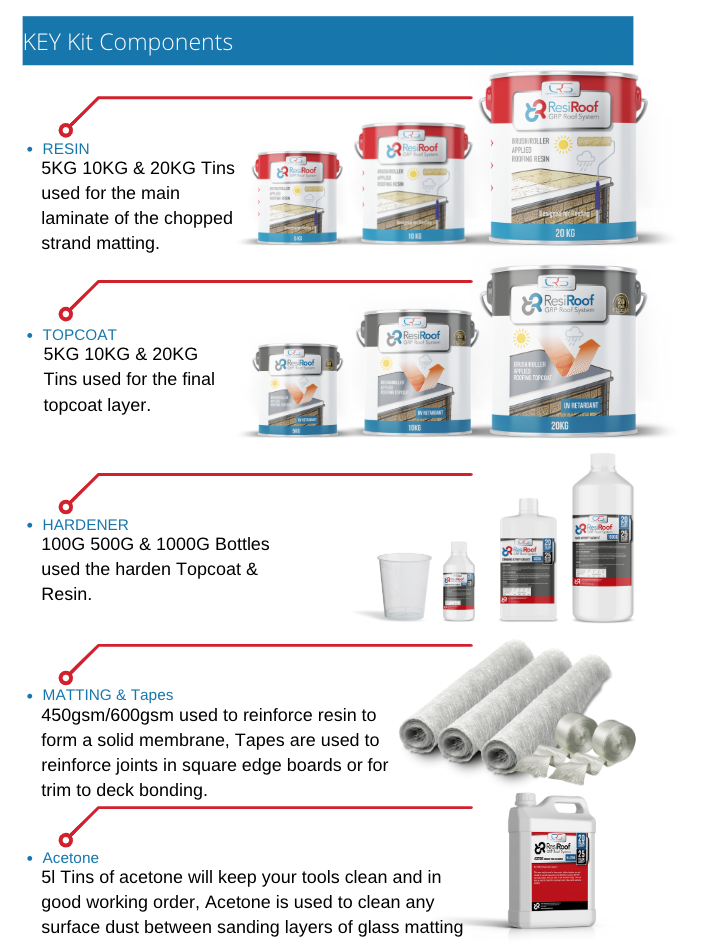 ---
---

---

Important information:
Our GRP kits are designed for use on OSB (Orientated Stranded Board) with Tongue & Groove Edge, The 50 Linear Metre Woven bandage is for use around the perimeter edges where the trims meet the roof decking. Additional Woven and Resin may be required and can be purchased separately if your using HDF or PLY (here).
More Information

| | |
| --- | --- |
| Roof Size | 10 m² |
| Important Information To Consider | We have taken the hard work out of providing the correct quantities for you. By simply selecting your roof size in m² we guarantee you will have the correct volume of Resin's, Topcoat's, Hardeners and Matting to complete the flat roof you have. Please ensure you order the correct kit size for your project, we cannot take any responsibility for kits ordered that are the incorrect size for your roof. If your a DIY user we strongly recommend ordering a slightly larger kit than required to allow for any unforeseen circumstances or mis calculations with mixing ratio's. For further technical support call us on 0207 101 3977 |
Safety Sheet for Resin Safety Sheet For Topcoat Safety Sheet for Catalyst
Frequently Bought Together
We found other products you might like!